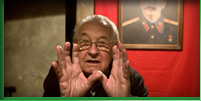 10TH ANNIVERSARY OF ANDRZEJ WAJDA FILM SCHOOL ______________
"From script to screen". This was the main idea of Andrzej Wajda and Wojciech Marczewski when they founded the Film School in 2001. The School offers a unique combination of education and production, artistic supervision, focus on development and contact with the internationally acclaimed masters of cinema.
The School also works as an independent production studio continuing the tradition of the famous Polish studios such us TOR, KADR and X. Over 10 years they have produced more than 50 documentaries and short fictions, over 200 students shorts. The films were screened and awarded at the numerous festivals including Cannes, Clermont-Ferrand, IDFA, DOKLeipzig and Berlinale. The School has been awarded twice with the Prize for the Best Producer of Docs & Shorts at the Cracow Film Festival in 2008 and 2010.
To celebrate their 10th anniversary they have just started an independent Film Studio., which will co-operate with the School and focus on film production. More information at: www.wajdaschool.pl/4
26 March - Thursday
Sunday 27 March / 5.20 pm / Riverside Studios
dir. Marcin Wrona / 2004 / Poland / 3 min

dir. Marcin Wrona / 2004 / Poland / 3 mindir. Marcin Wrona, cast. Tomasz Schuchardt, Wojciech Zieliński, Adam Woronowicz / 2010 / Poland / 86 min

Official Selection at the Toronto Film Festival

Followed by a Q&A with director, Marcin Wrona
27 March - Sunday
Sunday 27 March / 5.20 pm / Riverside Studios
Introduction by Udayan Prasad
31 March - Thursday
Thursday 31 March / 6.30 pm / London Film Academy
07 April - Thursday
Thursday 07 April / 6.30 pm / London Film Academy
Introduction by Udayan Prasad