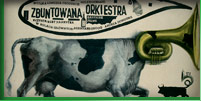 FRANCISZEK STAROWIEYSKI'S POSTER EXHIBITION
Franciszek Starowieyski's School of Posters
Franciszek Starowieyski (b. in Bratkówka 1930, d. in Warsaw 2009), known by closer associates and friends as Franek or Franio, was undoubtedly one of the strongest personalities in Polish art of the post-war period.
He studied painting at the Art Academy in Cracow (1949-52) and in Warsaw (1952-55). His greatest successes were achieved in the field of poster design and illustration. As a poster artist he created over 300 designs for movies and theatre productions. As an illustrator he arranged and animated twenty-two highly publicized Theatre of Drawing sessions. His contribution to Polish poster design is believed (especially outside Poland) to be emblematic of the work of the Polish Poster School, although he personally claimed that he had nothing to do with it, whatsoever.
Starowieyski was a great eccentric and the TV and film camera just loved him. His artistic output was very well distributed and familiar among the audiences. Yet, in a deeper sense, he is still unknown and undiscovered. Most of the Poles continuously prefer to deal with his often surrealistic art somehow intuitively and emotionally, which they believe that this matches the spirit of Starowieyskis's art.
The best definition of a Starowieyski poster has been forged by the artist himself. He stated that the most difficult task for the creator of a good poster is to find a reason for making it at all, of abstracting something personal out of the theme. According to him the act of illustrating somebody else's thoughts and ideas is not good enough, as it doesn't produce the necessary creative tension.
Evidently, Starowieyski succeeded in finding necessary "reasons" and in creating "tensions", as he left a vast gallery of breathtaking film and theatre poster images produced in the most fruitful years of his career, the 1960s and 1970s.
Jacek Szelegejd, curator associated with Wilanów Poster Museum
The exhibition presented by KINOTEKA comprises Franciszek Starowieyski's posters from the collection of Wilanów Poster Museum.