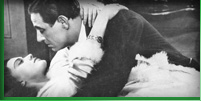 KINOTEKA CLOSING NIGHT ______________
Henryk Szaro (b. Warsaw 1900, d. 1942 Warsaw) was a theatre director and screenwriter known for his literary adaptations of important Polish authors and who directed some of his films in Yiddish. Szaro is considered to be one of the most important figures in the Polish film industry of the silent film era. He tragically died, aged 42, in the Warsaw ghetto.
The Strong Man (Mocny człowiek) (1929) was one of Szaro's favourite adaptations. The film was based on the controversial novel by the Polish author Stanisław Przybyszewsky, known as "the discoverer of the naked human soul". The film tells the story of a mediocre journalist, Henryk Bielecki (Gregori Chmara) who dreams of fame and glory and who will stop at no lengths, not even murder, to achieve success, stealing an unknown manuscript from a friend. However with fame, come pangs of conscience.
The film is remarkable for its very up-to-date themes, such as the matter of morality of fame and success, the problem of intellectual property, and the motif of drug abuse and crime. The Strong Man is a lively, dynamic and intense drama thatkeeps you on the edge of your seat.
Described as the greatest Polish film of the silent era, and rooted in German expressionism and Soviet Russian cinema, The Strong Man can be ranked alongside other world class silent cinema classics of the period, such as Dziga Vertov's The Man With A Movie Camera (1929) or Fritz Lang's Metropolis (1927).
Szaro's film was considered to be lost forever, like many other titles that disappeared during World War II , until a copy was found in 1997 at the Royal Film Archive in Brussels and fully restored.
KINOTEKA's Closing Gala screening of Szaro's rediscovered classic will be accompanied by a fresh and new soundtrack from one Poland's most interesting and promising groups, Pink Freud, exploring different genres from traditional Polish jazz, rock, fresh yass and experimental electronica.
The Strong Man concludes the Polish Yiddish film dyptich that also includes Henryk Szaro's The Vow.
13 April - Wednesday
Wednesday 13 April / 7.30 pm / Barbican Centre
with live music by contemporary Polish group Pink Freud