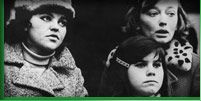 KONDRATIUK BROTHERS' RETROSPECTIVE ______________
The history of film abounds in teams of brothers; the Warner Brothers, Marx Brothers, Coen Brothers, Quay Brothers to name but a few… These filial collaborations need no introduction, yet, there is one more name that has to be added to this list; Janusz and Andrzej Kondratiuk. A name that has remained unrecognised abroad, but that has contributed immensely to Polish cinema history.
Their films – as hilarious as the cinema of the Marx Brothers, as grotesque and fresh as some of the Coen Brothers early films and as immersed in the Polish tradition as the works of the Quay Brothers – are a must if you want to know what Polish cinema and Polish humour is all about. KINOTEKA is delighted to present UK audiences with this opportunity to discover their creative talents, screening a retrospective season of their most well known films, many for the first time in the UK.
26 March - Saturday
Saturday 26 March / 2.00 pm / Riverside Studios
Double Bill
dir. Andrzej Kondratiuk / 1973 / Poland / 44 min

dir. Andrzej Kondratiuk, cast. Iga Cembrzyńska, Wiesław Gołas, Wiesław Michnikowski / 1970 / Poland / 70 min
27 March - Sunday
Sunday 27 March / 3.00 pm / Riverside Studios
Double Bill
05 April - Tuesday
Tuesday 05 April / 8.30 pm / Prince Charles Cinema
Screening cancelled